Pediatric Dentistry Available When You Need It
We understand that trust is important when it comes to your child's dental care. You can expect us to provide the most current and beneficial procedures during each phase of your child's tooth development. Count on us to listen to your questions and provide solutions for your child's dental conditions.
Where Long-term Dental Health Begins
Your child's lifetime of good dental health starts early in their life. Prioritize check-ups and daily tooth and gum care. This helps assure the prevention of cavities and oral disease for a lifetime.
A Comfortable Environment for Your Child's Dental Appointments
The surroundings we provide for your child's dental care will encourage them to relax and develop a positive attitude about dental care. Our two locations are designed to put your child (and you) at ease during each pediatric dental appointment. Easy scheduling also accommodates you and your child's schedule.
A Comfortable Environment for Your Child's Dental Appointments
Your questions help us know what you're most concerned about at the moment. Our Team always seeks to improve our expertise having answers and solutions for keeping your child's mouth healthy.
Our mission is to provide comprehensive and superior quality care for children, infancy through adolescence. We are passionately committed to improving pediatric dental health and will strive to build long-term relationships based on trust and respect with our patients and their families.
Leslie K. Tanimura, DDS, MSD
Dr. Leslie Tanimura brings a warm, personal approach to patient care. She is a graduate of the University Of Southern California School Of Dentistry and the Indiana University pediatric dentistry residency program. Dr. Tanimura also completed a cerebral palsy fellowship and received her master's degree while attending Indiana University. During her years as a faculty member at the University of Kentucky, she attained certification by the American Board of Pediatric Dentistry.
Jennifer T. Lo, D.M.D., M.S.
Dr. Jennifer Lo, grew up in Hong Kong as well as in Toronto, Canada. She earned her Bachelors of Science at the University of Toronto. Realizing dentistry was her passion, she went on to earn her DMD at Tufts University School of Dental Medicine. After graduation, she decided to move to one of her favorite cities in North America, San Francisco, where she completed the Advanced Education in General Dentistry Residency at the University of the Pacific, Aurthur A. Dugoni School of Dentistry.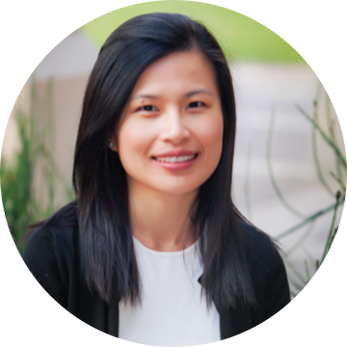 Compelling Facts That Impact Your Child's Dental Health
That's the percentage of children between age two and 11 that have untreated tooth decay…and why it's vital to schedule your child's next dental check-up
Your child is 5x more likely to experience tooth decay than asthma… routine dental check-ups and consistent at-home care can help eliminate tooth decay.
The total amount of school hours missed because of oral disease… early diagnosis is part of your child's routine dental check-up.
That's all the time your child needs to brush 2x a day… doing so helps keep their teeth and gums healthy as they grow and develop.
Our Happy Clients!
Our family has been going to Brentwood Pediatric Dentistry for over 16 years. Dr. Tanimura and her staff are professional, caring and ALWAYS friendly. They always greet you with a smile and treat you like you are family. When my children are at their appointments they are always made to feel comfortable and relaxed. I fully trust all dental decisions and care that Dr. Tanimura has provided for our children.
The Herbert Family
Our Happy Clients!
We love Dr. Tanimura and her awesome staff! We've been visiting Dr. Tanimura since we were 2 years old and she's always taken great care of us & makes us feel super comfortable.
Yee Family
Our Happy Clients!
Brentwood Pediatric Dentistry is amazing. My daughter has had to have numerous baby teeth pulled due to them not falling out naturally. The service we received here was spectacular. They were patient with her and split her work up in as many as appointments as possible to give her a great experience. Dr. Lo is very gentle and really cares about her patients. We are so happy to have found her and this office. They do a wonderful job and are great to work with. The staff and nurses are also great. I've recommended them to quite a few people already.
Otero Family
Antioch Brentwood Pediatric Dentistry…a nurturing environment where your child will develop a lifelong commitment to taking care of their teeth.
Close To Home…
Our pediatric dental office has a longstanding reputation in East County. This assures that your child is treated by pediatric dentists who have years of board certified expertise. Families and children in Antioch, Brentwood, Discovery Bay, Oakley, Knightsen, Concord, Pittsburg, Bay Point, and Rio Vista rely on the pediatric dental care we provide to establish a lifetime of healthy teeth and gums.
Antioch and Brentwood Pediatric Dentistry is the largest and oldest pediatric dentistry specialty practice in the East County. We serve patients in the surrounding cities and areas of Antioch, Brentwood, Discovery Bay, Oakley, Knightsen, Concord, Pittsburg, Bay Point, and Rio Vista, California. All of our pediatric dentists are board certified. Our doctors and staff are committed to providing your child with the best care there is to offer!